Easy Rollerz Classic Gen 2
Introducing our second generation of our classic heel skate, Easy Rollerz are our flagship product. This model can hold up to 170lbs and has an ABEC 5 bearing.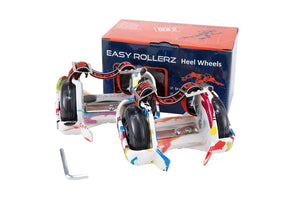 Limited Edition Eazy Rollerz Classic (Rainbow Splatter) Gen 2
Sale price Price $49.99 Regular price
Easy Rollerz Pro Gen 2
One of our second generation products! Our pro model can hold up to 250lbs and has ABEC 9 bearings for the fastest smoothest ride!
About us
4-Wheel Easy Rollerz Gen 2
Our second generation products are even better! For example, the 4-Wheel Easy Rollerz are a great way to start the fun of using heel skates! These are easy to use and are great for ages 3+
Skateboards
We also sell penny style boards with or without light up wheels.
Gift card
Looking for something for someone special? A gift card to our store is the perfect idea!